The Top 3 Most Beautiful Cathedrals Built in Honor of St Patrick
Saint Patrick was a 5th-century Christian missionary from a Romano-British family.
Ireland's primary patron saint, St Patrick spent most of his life dedicated to teaching Christianity across Ireland.
Known as the "Apostle of Ireland", to help teach Christianity to his pagan followers, he combined the sun cross with the Christian cross to form the Celtic Cross and used the shamrock as a metaphor for the Christian Holy Trinity.
His life is honored every year on March 17.
St. Patrick's Day is an enchanted time – a day to begin transforming winter's dreams into summer's magic
Adrienne Cook
Church buildings around the world are named after St Patrick. Here are three of the most beautiful.
Saint Patrick's Cathedral, Dublin, Ireland
Founded in 1191, Saint Patrick's Cathedral in Dublin is the largest church in Ireland.
From humble beginnings as a Celtic parish church, in 1192 Dublin's first Anglo-Norman Archbishop raised its status to a collegiate church devoted to both worship and learning.
With donations collected across Ireland, reconstruction began on the glorious English Gothic style cathedral.
The author Jonathan Swift, who wrote Gulliver's Travels, was Dean of the cathedral from 1713 to 1745.
The Cathedral of St. Patrick, Manhattan, New York City
A prominent landmark of New York City, St. Patrick's Cathedral is a Neo-Gothic Roman Catholic cathedral church in Midtown Manhattan.
Designed by James Renwick, Jr., work began on August 15, 1858, but was halted during the civil war, and later completed in 1878.
Accommodating 3,000 people, the cathedral spans a whole city block, between 50th and 51st streets, Madison Avenue and Fifth Avenue.
Rising 330 feet (101 meters), the twin spires were a later addition in 1888.
St Patrick's cathedral became a National Historic Landmark in 1976.
Among many notable people, St Patrick's held requiem masses for Babe Ruth, Vince Lombardi, Ed Sullivan, and Robert F. Kennedy.
Cathedral of Saint Patrick (Harrisburg, Pennsylvania)
The Cathedral of Saint Patrick in downtown Harrisburg, Pennsylvania, is part of the Harrisburg Historic District on the National Register of Historic Places.
Completed in 1907, the Baroque- and Renaissance-Revival cathedral is capped with a classically influenced dome. Granite from North Carolina covers the exterior.
The interior features oriental marble wainscoting, topped with Connemara marble.
The original altar was styled after the Bernini altar at the Chapel of the Blessed Sacrament in St. Peter's Basilica, Rome.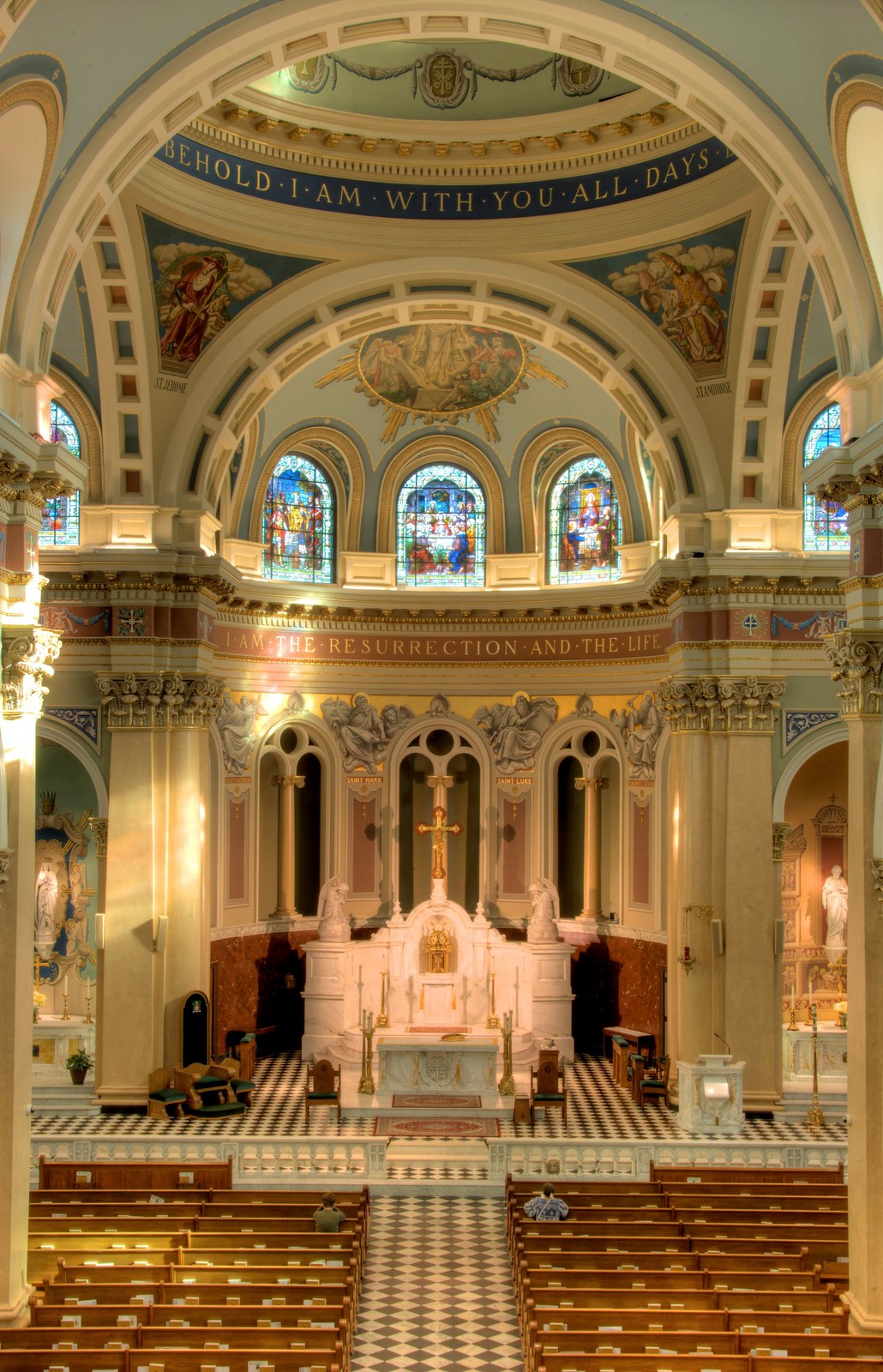 The main nave is flanked by granite columns that support a vaulted ceiling.
The forty-four stained glass windows in the nave were imported from Munich, Germany.
The original pulpit featured carved figures of four evangelists with the Lamb of God standing on the Mystic mount and styled after a fresco found in the Roman Catacombs.
Contains affiliate links
Sources
wikipedia.org
biography.com
stpatrickscathedral.ie